Vegetarian Recipes - An easy way to healthy eating.
---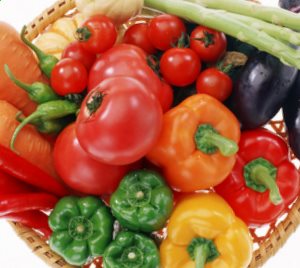 This collection of Vegetarian Recipes, will give you sufficient ways to eat healthy vegetables.
We need to eat vegetables in our daily diet.
Veggies are the easiest source of dietary fiber, minerals and vitamins.
The best way to cook them is steaming, grilling, stir frying or baking, in order to retain the nutrients. Not all vegetables can be eaten raw, the one's which can be, should be consumed that way.
Here are some easy and healthy recipes using fresh vegetables. Hope you like them.
I will be adding more and more as the site grows. So don't forget to BOOKMARK the page.
Indian Vegetarian

Palak Paneer - Spinach with cottage cheese.

Vegetable Jalfrezi - Assorted vegetables cooked in a tangy sauce

Dal Makhani - Whole Black gram lentil cooked in a buttery masala (this recipe is a healthy version.

Dum Aloo - This vegetarian recipe is made from baby potatoes cooked in a spicy gravy.

Carrot recipes - Carrot poriyal, carrot salad, carrot halwa and carrot cake.

Cauliflower chili garlic - An Indo Chinese Recipe for batter fry cauliflower in a chili garlic sauce, flavored with sesame oil and seeds.

Spinach Dal - Palak dal - Spinach and chana dal (bengal gram lentils), an Indian recipe.

Kala chana chaat - A savory snack made from black chickpeas. Completely oil free. Tasty and healthy.

Aloo Baigan - Eggplant recipe

Kala Chana Curry

Cabbage recipe - Cabbage and chana dal, patta gobhi sabzi recipe.

Paneer recipes - Indian cottage cheese recipes including paneer butter masala, mutter paneer, paneer bhurji, rasgulla, rasmalai and more.

Easy Healthy Recipes - Including a quick vegetable stew and savory oats porridge.

Eggplant recipes - Recipes include baigan ka bharta, eggplant salad and raita.

Vegetable Korma (Navratan Korma) - Vegetables cooked in a mild white gravy.

Vegetable Kebab - Grilled kebabs using paneer, capsicum, tomatoes and onions, in a spicy marinade.

More Vegetarian Recipes

Creamy Mushrooms

Roast Potatoes

Tomato Recipes - Various recipes using tomatoes. Such as tomato soup, tomato rice, tomato salad. Also learn about the health benefits of tomatoes.

Stir fry Veggies with cashews

Grilled Vegetables

Vegetable Stir Fry

Spinach Recipes

Zucchini Recipes



Creamy Mushrooms
This is a very simple creamy mushroom recipe. Although a bit fattening, this recipe is a complete flavorsome delight. No harm in cooking this once in a while.
Ingredients
* 400g Button Mushroom (quartered)
* 1 Onion (chopped)
* 4-5 Garlic cloves (chopped finely)
* 2 Tbsp Butter
* 1/2- 3/4 cup Cream
* 1 Tsp smoked Paprika
* 1 Tsp grated Nutmeg
* Salt and black pepper to taste
* A fistful of fresh coriander (chopped)
Melt the butter in a pan, saute the onion and garlic until soft. Add the mushrooms and cook till they brown a bit. Reduce the heat and add the 1/2 a cup of cream. Add the salt, pepper, paprika and nutmeg. Adjust the consistency by adding a little more cream if you want. Cook for a couple of minutes. Close the heat and garnish with coriander.
Serve hot with boiled rice, noodles or bread.


Vegetarian Recipes to Creative Cooking Corner Home