Cauliflower Chili Garlic | Gobhi Chili Fry
---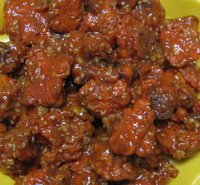 Cauliflower chili garlic or also known as gobhi chili fry, is a popular dish in many Chinese restaurants in India. This again is a typical Indo-Chinese recipe and I doubt if it is made this way in China.
The chili and garlic flavors, combined with tomato ketchup and sesame seeds, give the cauliflower an out of this world taste. You can try out this recipe just for a change, I am sure you will like it.
Serve 4
Ingredients
* 500 gm Cauliflower cut into 1 inch florets
* 1 Tbsp Oil
* 3 Tbsp finely chopped garlic
* 5-6 dry red chilies
* 1 Tbsp chopped celery stalk
* 2 Tbsp chili sauce
* 2 Tbsp Tomato ketchup
* 1 clove garlic (in addition to the chopped garlic)
* Salt to taste
* Coarsely crushed black pepper (to taste)
* 1 Tbsp Sesame seeds
* 1 Tsp Sesame oil
* 2 Tsp of cornflour mixed with some water
* 1 cup hot water
* Oil for frying
For the batter
* 1 Egg
* 5 Tbsp Cornflour
* 10 Tbsp plain flour (maida)
* 1 Tsp Garlic powder
* Salt to taste
* Black pepper powder to taste
* Ice cold water
* a pinch or two of red color
Method
Cut the red chilies from the center and remove as many seeds as possible, by shaking them off. Now soak these chilies, a clove of garlic and some salt, in 1 cup of hot water. Leave for 1 hour. Later, blend it and keep aside (this will be like a liquidy mixture, with chili bits).
To fry the cauliflower. Put all the ingredients (except water) for the batter, in a bowl. Now, use a balloon whisk to blend them together by using little ice cold water, to form a thick yet flowing batter. Somewhat like a cake batter.
Heat oil in a frying pan. Dip the cauliflower florets in the batter and deep fry on a medium heat for 5 minutes. Turn them often, to ensure even frying. Do not overcrowd the frying pan. Drain them on kitchen paper.
Next, heat oil in a wok or kadai, add the blended chili paste and garlic. Stir fry for a minute and add the celery, tomato ketchup, chili sauce, sesame seeds and sesame oil. Now add 1/4 cup of water and bring the sauce together. Add salt and pepper to taste. Add the fried cauliflower and toss well. Now thicken a little by adding cornflour paste. Use only a little until the sauce thickens a bit. Garnish with more sesame seeds and chopped spring onions.
Eat the hot cauliflower chili garlic with noodles or rice.
Enjoy!



From Cauliflower chili garlic to other vegetarian recipes

Creative cooking corner home