Meat Recipes - Beef, Lamb and Mutton recipes.
---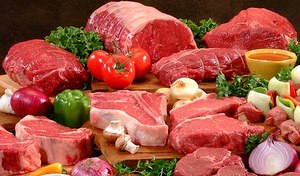 There are many Meat Recipes here, for you to explore.
Meat is a good source of Protein, vitamin B and iron. Plus it tastes YUMMY. Wouldn't you agree???
Since meat (beef, lamb or mutton) is high in saturated fats, it is better to go for leaner cuts whenever possible.
The recipes you will find here are a few of my favorites. Hope you will like at least some of them.
Beef Recipes

Beef Stir Fry

Beef Stroganoff

Moussaka

Zucchini Beef Bake | Courgette Beef Bake

Keema Matar Recipe - Mince beef,cooked with peas.

Shepherds Pie Recipe

Kofta Curry - Meat balls cooked in a spicy gravy.
Lamb Recipes/Mutton Recipes
If Lamb is not available, mutton can be used in any recipes (it takes longer to cook though)

Lamb Curry - Mutton curry

Leg of Lamb Recipe

Palak Mutton/Lamb Recipe - mutton or lamb cooked with spinach


Methi Gosht - Fenugreek Mutton/Lamb
---
This is a meat recipe from India. Fenugreek Leaves or known as methi leaves are rich in protein, calcium, phosphorus and iron in their natural forms, its mineral and vitamin contents are also very high and this is easily assimilated by our body. They are slightly bitter in flavor.
Cooked along with lamb/mutton they give a very good taste. I add some spinach leaves also in this recipe to balance the over powering taste of methi. It also gives more body and color to the recipe. All in all, this is a healthy meat recipe.
Serves 6
Ingredients
1kg Mutton or lamb
300gms fresh Methi (fenugreek) leaves (approximate amount)
200gms fresh Spinach leaves
3-4 Onions (sliced)
6-7 Garlic cloves (chopped)
2 Tsp dry Ginger powder
2 Tsp red chili powder (to taste)
6-7 green Cardamoms crushed
4-5 cloves
2 Tsp Coriander seeds
3 black Cardamoms crushed
1 Bay leaf
2 Tsp English mustard
1 Tsp garam masala powder
2-3 Tsp lime juice
Salt to taste
3-4 Tbsp oil

The methi and spinach amount is just approximate. You don't have to weigh it. It should be roughly half the quantity of the meat.
Method
Blanch the methi and spinach in boiling water for 30 seconds and rinse under cold water. Make a paste.
Seal the mutton pieces by putting a few at a time in a hot pan. Turning them around so that all sides are cooked and the juices sealed inside. This should take about 10 minutes. No need to add any oil if the pan is non stick, the pieces won't stick to the pan. Keep aside.
In another pan heat oil and add clove, bay leaf and black, green cardamoms. When they crackle, add the sliced onions, garlic and coriander seeds. Saute until the onions turns light brown (flame should not be too high).
Once done add the methi paste and cook for at least 20 minutes on a medium flame, stirring in between.
Add the dry ginger and chili powder, salt, mustard and mutton. Cover and cook on a low heat till mutton is tender. This should take about 45 minutes. Or else, use a pressure cooker to fasten the process. Check the status of mutton after one whistle and if need be give another whistle. Add the garam masala and lime juice in the end.
This is a sort of semi dry recipe, so most of the water should evaporate in the cooking process. Hence, no need to add any extra water during cooking.
If using a lamb, the cooking time will reduce.
Serve hot with chapati, naan or tandoori roti.

Want to make sausages at Home?

Lets make some sausage recipes

Pork Recipes

How about some delicious Pork Recipes from AllCookMakeEasy.com?

Meat Recipes to Creative Cooking Corner Home