Kala Chana Curry | Black Chickpea Recipe
---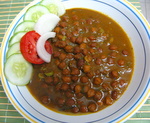 Kala chana curry is an Indian chickpea recipe made from black chickpeas. Also known as kale chole curry in Hindi which means black chickpea curry. In northern India there is an old wife's tale that if you eat black chickpeas or bengal gram, you will become as strong as a horse. Horses are fed black chickpeas along with other food.
Well in a way it is true, black chickpea is rich in iron and many other minerals.
There are many ways to make black chickpea recipe, one is making in the form of kala chana chaat.
This recipe here is a curry, which is made by grinding wet masala.


Here are the ingredients you need to make this kala chana curry,
* 250 g sookha kala chana (dry black chickpeas)
* 2 medium onions (blended to a paste)
* 3 medium tomatoes
* 1 inch piece of ginger
* 6-7 cloves of garlic
* 4 cloves
* 1 inch piece of cinnamon
* 2 green cardamoms
* 1 black cardamom
* 1 bay leaf
* 1 Tsp cumin seeds
* 2 Tsp Coriander powder
* 1/2 Tsp cumin powder
* 1 Tsp garam masala powder
* Salt to taste
* 1 Tsp red chili powder
* 2-3 fresh green chilies chopped
* 1/2 cup of chopped fresh coriander leaves
* 2-3 Tbsp Oil

Method
Wash and soak the black chick peas in water for 7-8 hours. Pressure cook them till soft, this will take a while. Add the black chick peas in the pressure cooker and cover with water. The water should be at least 2 inches above the chickpea level. When the pressure builds up, reduce the flame to low and simmer for 30 minutes. Let the pressure settle down and check, in case they are still tough, pressure cook some more. In case you are not using a pressure cooker, you will have to be very patient because black chickpeas will take a while to cook.
Meanwhile, puree the onions in a blender and keep aside. Also puree the tomatoes along with ginger and garlic. Keep aside.
Heat oil in a cooking pot. Crackle the cloves, cardamoms, bay leaf, cinnamon and cumin seeds in oil. Add the onion paste and cook on high till light brown in color. Keep stirring in between to prevent it from burning. Now add the pureed tomatoes. Cook on high again till completely dry and till you are able to see little oil droplets on the sides of the masala.
Add all the dry powders, salt and the pressure cooked chana. Simmer for 10-15 minutes. Lastly add the green chilies and chopped coriander and simmer for another 5 minutes.
Sometimes when I mix the black chickpeas with the masala, I give it a quick whistle in the pressure cooker. This way the chana absorbs the masala flavors.
Either way, when you are finished cooking, let it rest covered for an hour or so, for the flavors to seep in. You can add hot water to improve the consistency if the curry is too thick.
Serve hot with roti/ chapati or boiled rice or zeera rice. Enjoy the kala chana curry!




Kala chana curry to other vegetarian recipes

Creative cooking corner home