Spinach Recipes
---
Here are some spinach recipes for you to try. Spinach is one of the top 10 healthy vegetables that you can eat. There are many benefits of spinach, which are listed below. This wonder green leafy vegetable can be eaten in many different ways like - raw, steamed, stir fry and boiled. Spinach has a large nutritional value, especially when fresh, steamed, or quickly boiled.
If you want you can click here to know many more benefits of spinach here.
The first recipe here can be served as a warm spinach salad (with some sour cream on top) or a palak ki sabzi (with chapati). This recipe is very easy to make and delicious, not to mention very healthy.
The Ingredients you will need for this spinach salad recipe are
1 large bunch of fresh spinach (chopped finely)
200g Button Mushrooms (sliced thinly)
2 cloves Garlic (chopped finely)
1 Onion (chopped)
1 green chili (chopped)
2 Tsp Olive Oil
Salt to taste
Method
In a pan heat the oil and add the garlic. Saute for 30 seconds and add the onions. Saute till onions become soft. Add the chopped spinach, mushrooms, chili and salt. Cook covered for 2-3 minutes till the spinach wilts. Give a quick stir and cook uncovered till done and becomes dry.
Serve hot like a sabzi with chapati / bread. You can serve this as a warm spinach salad with some sour cream and bread.
Here are some more spinach recipes for you

Palak Paneer - Spinach with cottage cheese, an Indian vegetarian recipe.

Salmon with spinach

Spinach Raita - An Indian yogurt dip with spinach, served cold.

Palak Mutton - Spinach and lamb curry.

Spinach dal - Spinach cooked with chana dal (bengal gram), an Indian vegetarian spinach recipe, also known as palak dal.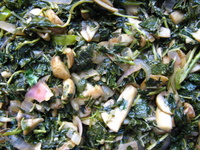 Spinach recipes to more vegetarian recipes

Creative cooking corner home