Cabbage Recipe - Patta Gobhi with Chana Dal
---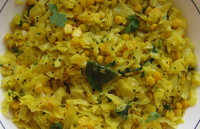 This cabbage recipe or patta gobhi recipe is a simple recipe for cabbage and chana dal (bengal gram lentil). Quick, easy and healthy Indian vegetarian recipe.
Before I begin with the recipe itself, let me quickly list a few benefits of cabbage.
Cabbage is an excellent source of vitamin C. It is also a very good source of fiber, manganese, folate, vitamin B6, potassium, and omega-3 fatty acids. Cabbage is also a good source of thiamin (vitamin B1), riboflavin (vitamin B2), calcium, potassium, magnesium, vitamin A, and protein.
Cabbage is an excellent detoxifying vegetable. The phytonutrients in cabbage, signal our genes to increase production of enzymes involved in detoxification, the cleansing process through which our bodies eliminate harmful compounds.
Studies show that diets high in cabbage, are associated with lower incidence of a variety of cancers, including lung, colon, breast, bladder and ovarian cancer. Cabbage can protect against heart disease as well as Alzheimer's.
Cabbage has been used as a food and a medicine for many many years. It is thought that wild cabbage was brought to Europe around 600 B.C. by groups of Celtic wanderers. It was grown in Ancient Greek and Roman civilizations that held it in high regard as a general panacea capable of treating a host of health conditions.
Ingredients required to make this Indian cabbage recipe or patta gobhi with chana dal are
1/2 cup chana dal (bengal gram lentil soaked and boiled till just cooked)
1 medium Cabbage (chopped into small cubes)
1/2 Tsp chopped ginger
1 Tsp Mustard seeds
1 Tsp Urad dal (black gram split and skinned)(
1/2 Tsp Turmeric powder
Salt to taste
2 green Chilies or 2 dry red chilies
6-7 Curry leaves
1 Tsp Oil
2 Tbsp chopped fresh Coriander
In a kadai or deep pan, heat the oil and add the mustard seeds and allow them to sputter. Add the urad dal and as soon as it turns light pink, add the curry leaves, ginger and chili. Saute for a minute and add all the chopped cabbage.
Mix well and add the turmeric powder and salt. Mix again and cover with a lid and simmer for 10 minutes, giving a occasional stir in between. When the cabbage is almost cooked, add the cooked chana dal and mix gently. Simmer for another 3-4 minutes and add the coriander.
Serve hot with chapati.
Please note :- Do not over cook/boil the chana dal otherwise it will go mushy. It should be just cooked. Also, no need to add any water while cooking as the cabbage will cook in it's own steam.



Cabbage recipe to more vegetarian recipes

Creative Cooking Corner Home