Grilled vegetables recipe
---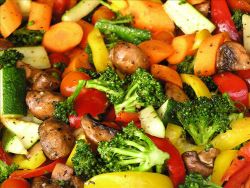 This Grilled vegetables recipe is a low fat recipe, which is easy, tasty and healthy. If you make this at least once a week and have these with a light soup, instead of a regular meal, you will never hate going on a diet.
Also you can have these as a salad, with roast chicken, fish or anything really. The flavor of all these assorted vegetables is so good, you can eat them as they are.
Grilling is a good way to retain most of the nutrients in the vegetables. So what can be better than having a low fat meal made of healthy vegetables and being able to enjoy it too.
To make these healthy vegetables you can use any vegetables of your choice. The recipe here is only a guideline. Try to grill the onion though, as the caramelized onions give this recipe a good and distinct flavor.
This recipe will serve 4.
Ingredients
* 10 button mushrooms (split in half if very big)
* 2 large Tomatoes (cut in round slices)
* 12 florets of Cauliflower or broccoli (steam the cauliflower for 3-4 minutes separately)
* 2 Carrots (thinly sliced diagonally)
* 15-20 shallots (or 2 medium onions quartered)
* 1 large green Bell Pepper (capsicum, cut into 8 pieces)
* 4-6 cloves of Garlic (crushed)
* Olive oil
* 1 Tsp each of onion and garlic powder
* 1 Tsp of dried Oregano
* 2-3 pinches of Celery salt (optional)
* Dry red Chili flakes
* Salt and freshly ground pepper
Pre heat the oven to 220°C.
Arrange all the vegetables in a baking tray. Brush a little with olive oil, especially the onions and bake for 15-20 minutes.
Place under the grill for 10 minutes till they get a golden brown color.
Take out and while still hot, drizzle some more olive oil if you want and sprinkle evenly all the dry ingredients.
Serve with salsa or any other dip or just eat it like that.
Enjoy!!

Grilled vegetables recipe to other vegetarian recipes

Creative Cooking Corner Home