Vegetable Kebab | Paneer Kabab
---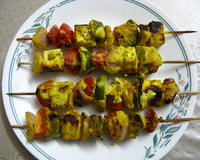 This vegetable kebab / paneer kebab recipe is simply delicious. If you are a paneer (cottage cheese) lover, this recipe is for you. Try it out once and you will surely make it again. The flavors are very Indian, so you will definitely get that spicy taste . I like using paneer (Indian cottage cheese) for this recipe, along with other vegetables. If you want to omit paneer (which I don't think you should), you can make it by using tofu (bean curd / soya paneer) or just with the rest of the vegetables.
Although these vegetable kebabs involve very simple grilling method, still the marinade gives them the flavor which is very unique.
Makes about 8-10 wooden skewers.
Ingredients
* 200g Paneer (cottage cheese) cut into 1 inch cubes
* 1 Large green capsicum cut into 1 inch squares
* 2-3 large Tomatoes cut into 8 big wedges
* 2 large Onions cut into 1 inch squares

Marinade
* 1 cup of hung yogurt (explained in the method)
* 1 cup milk
* 2 Tsp oil
* 2 Tbsp ginger garlic (chopped finely)
* 1 Tsp ginger garlic paste
* Salt to taste
* 2 green chilies (finely chopped)
* 5-6 Powdered green Cardamoms (choti elaichi)
* 1/2 Tsp mace powder
* 4 Tbsp gram flour (besan)
* 1/2 Tsp Turmeric powder
* 1 Tsp red chili powder (to taste)
* 1 Tsp kasuri methi (dried fenugreek leaves)
* Juice of half a lime
Method
What is hung yogurt?
To get a creamy texture of the yogurt, all the water needs to be drained out from it.
To do this just tip all the yogurt onto a sieve (lined with a muslin cloth/cheese cloth or use a sieve with very fine net). Place the sieve over a bowl (container), so that all the water gets collected in it. Leave this for 6-8 hours (or minimum 1 hour definitely), inside the refrigerator. When the water gets collected in the bowl below, you will be left with a lovely creamy yogurt. Keep this aside.
Rub the paneer cubes with the ginger and garlic paste and some salt. Keep aside for 30 minutes.
Meanwhile prepare the rest of the marinade.
Heat the oil in a pan / kadai, add chopped ginger garlic in it and fry for a minute. Also, add the green chilies and stir for a few seconds. Now add the gram flour and cook on a low flame, stirring continuously for 2-3 minutes, to take out the raw smell from the gram flour. Remember, stirring is important, otherwise the flour will easily get burnt and taste bitter.
Now add the turmeric and chili powder. Cook for a minute and gradually pour the milk in, stirring regularly. A balloon whisk will come handy at this stage. Mix the flour and milk to make a smooth blend. Pretty soon this mixture will begin to thicken.
At this stage switch off the heat and let this cool a little (say for 10 minutes or so).
Now add the hung yogurt, mace and cardamom powder, kasuri methi, lime juice and salt. Mix thoroughly.
This is the marinade we will use to coat the vegetable kebabs. Put the paneer cubes and the rest of the vegetables (except tomatoes) in this, mix so as to coat all vegetables. Leave for 15-20 minutes.
Meanwhile soak some wooden skewers in water. In case of metal skewers, obviously skip doing this.
Now put the vegetables on the skewers in the order you like (distributing the capsicum, onions, paneer and tomatoes fairly equally). Place under a grill for 10 minutes each side. Whatever little marinade is left, mix some oil in it and use it to baste (brush the kebabs with this, so that they remain moist) the kebabs while grilling.
That's it! Carefully remove the kebabs and enjoy with some salad. There is no need but if you want you can sprinkle some chat masala on top.
Tip:- If the edge of the skewer has some marinade which has got burnt or excessively charred during grilling, the kebabs won't slide out easily. To avoid this, just scrape of the burnt edge with a sharp knife. Now loosen the kebabs a little and slide them out by pushing at the other end. Use sour yogurt, so that the vegetable kebabs get a nice tang.



Vegetable kebab to more vegetarian recipes

Creative cooking corner home