Vegetable Korma - Navratan Korma Recipe
---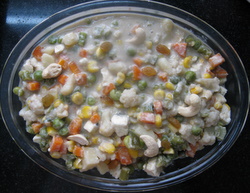 Vegetable Korma is a very famous Indian vegetarian recipe.
It is assorted vegetables cooked in a creamy white sauce/gravy, flavored with spices. The taste is amazing.
The way I make it, ensures that most of the nutrients in the vegetables are retained.
There will be a long list of ingredients, so please don't panic. You don't have to have all the vegetables mentioned. Use whatever is available.
Although, the sauce will get the proper flavor if all ingredients are used. Yet again, if you don't have a few, just make it without those.
Ingredients for the sauce/gravy for the kurma are
1 large Onion (boiled)
1 Tsp Ginger-Garlic paste
2 Tbsp Oil
10-12 Cashew Nuts
10-12 Almonds (blanched and peeled)
200 ml Yogurt
1 Green Chili
100 ml of Milk
50 ml Cream (optional)
1 Tsp white Poppy seeds (dry roasted)
1 Tbsp Fennel powder (saunf powder)
1 Tsp coriander powder
1-2 Tsp Garam masala powder
2 Cloves
1 inch Cinnamon
1 green Cardamom
1 Tsp Dry Fenugreek leaves (kasoori methi)
1 Tsp sugar
1/2 Tsp White pepper powder (or use black)
Salt to taste
---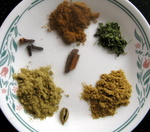 ---
The vegetables required are
1 Carrot
100 gm Button mushrooms
1 small Green Bell Pepper(Capsicum)
100 gm French Beans
100 gm Cauliflower
1 Small Potato
100 gm Peas
100 gm Fresh Cottage cheese (paneer)
100 gm Sweet Corn (1 can should be OK)
7-8 Canned cherries (optional)
2-3 Tbsp Canned Pineapple (chopped/optional)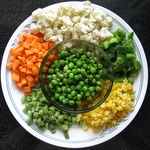 1) Chop the carrots, beans, mushrooms, potato,
cauliflower and bell pepper, into equal size small cubes and steam them, along with the peas, till they are soft yet firm and definitely not crunchy. The bell pepper and mushrooms won't require a lot of time.
2) Chop the cottage cheese also in the same size and keep aside.
3) To boil the onion - Peel the onion and quarter it. Now put it in boiling water and boil it for 7-10 minutes. Remove the onion and discard the water. Let it cool.
4) Heat a non stick pan, put the poppy seeds in it (without any oil oil) and on the lowest flame, roast them, stirring constantly. This would take a minute or so. When light brown in color, turn off the heat. Let it cool.
5) Make a paste of the onion, green chili and poppy seeds, in a blender(use very little water if required) and keep aside.
4) Make a paste of the cashews, almonds and yogurt. Keep aside.
Don't worry we are getting there
Now that all the bits and bobs are done....Lets start cooking!
In a deep non stick pan or kadai, heat the oil.Add the cloves, cardamom and cinnamon. When they crackle slowly add the onion paste. Saute for 3-4 minutes and add the ginger-garlic paste. Saute on a low heat till the paste becomes light brown.
Add the fennel powder and tip in the steamed vegetables. Mix gently.
Now add the cashew paste, garam masala, sugar, pepper, fenugreek (crushed) and salt. Mix gently and let it simmer for a few minutes. To thin the gravy to the desired consistency add some milk (little at a time). Add the paneer and corn. Stir gently.
Simmer for 5 minutes and then add the cherries and pineapple. Turn off the heat, garnish with cream.
Your vegetable korma is ready. It will be amazing how the flavors of all the vegetables amalgamate. Enjoy the taste.

Vegetable Korma to more vegetarian recipes

Creative cooking corner home from Vegetable Korma recipe