Learn about Korma | Chicken Korma Recipe | Vegetable Korma Recipe
---
What is Chicken Korma? or What is a Korma? Korma or kurma is a recipe that is made with thick white gravy or white sauce. This white thick gravy can contain either vegetables or meat. The thick gravy is made from yogurt and other herbs and spices. Sometimes it is topped with some fresh cream. The sauce or gravy in the korma recipe is very rich, primarily because it contains not just yogurt and cream but also cashew nuts and almonds, and sometimes even coconut, to thicken the gravy. Needless to say that the flavors of korma are very scrumptious. The most common recipes of korma in India are navratan korma (vegetarian) and chicken korma and mutton korma.
It was the Mogul influence on Indian food that lead to the origin of korma. Usually the gravy in korma is very mild. Although there are many states in India that make very hot korma. In fact the North Indian Korma is different from the South Indian Kurma. Both are delicious though. In northern India the korma is a mild yet spicy white curry. In Southern India a korma consists a tomato based gravy which is very hot and spicy.
The style of cooking a korma in olden days was probably the main reason for it's incredible taste. It was cooked in mud pots over a 'chulha'(a mud stove, with wood as fuel, usually found outside the house). Even now a days, most rural population in India still continues to cook like that. Well you need to have a big open space for such cooking and the urban housing these days has no space or provision for such primitive methods of cooking. In my opinion though, food cooked on a chulha or tandoor has a flavor that cannot be matched by cooking the same thing with the same ingredients, on a gas stove.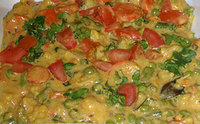 As I mentioned earlier, the korma these days has various interpretation and each region claims it's authenticity. The meaning and techniques to cook a korma are different even in India. This just proves that any good recipe can be improvised further to cater to the local taste. This is the beauty of good food. I always believe that there are no fixed recipes, there are just good recipes. Some people like to add tomatoes, some don't. Others add turmeric powder, some don't. As long as the end result comes out flavorsome, does it really matter what the recipe uses?
Here's how I like to make Chicken Korma and

Vegetable Korma

Creative cooking corner home