Chicken Korma Recipe
---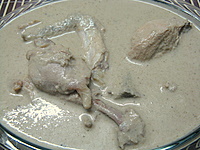 This Chicken Korma recipe is made in a white gravy (sauce).
Korma in northern India is considered a white gravy made from cashews and yogurt. Although in South India, korma can be a tomato based gravy. Learn more about history of korma.

This recipe here is a mild white chicken curry. This chicken korma goes well with rice or chapati (an Indian bread).
Recipe will serve 4-6
The ingredients for chicken korma recipe are as follows
1 Kg chicken on the bone (cut in 12-16 pieces)
2 Tsp Poppy seeds
1 Tsp White Pepper corns
3 Tsp Fennel seeds
2 Tbsp toasted coconut flakes (optional)
10-12 Cashews
10-12 Almonds (blanched and peeled)
1/2 cup yogurt
200 ml Coconut milk
1 Bay leaf
2-3 Cloves
1 inch cinnamon
1-2 green cardamoms
2 medium Onions
2-3 Green Chilies to taste
2 Tbsp Ginger-Garlic paste
2-3 Tbsp oil
1-2 cups hot water
Salt to taste
1-2 Tbsp of Lime/Lemon juice
Dry roast the poppy seeds, white pepper corns and fennel seeds and grind together along with the toasted coconut.
TO dry roast heat a non stick pan, put the poppy seeds in it (without any oil) and on the lowest flame, roast them, stirring constantly. This would take a minute or so. When light brown in color, transfer them on to a plate to cool down. Roast other spices in the same manner.
Also blend together the almonds, cashews and yogurt.
Puree the onions and green chilies by using very little water.
In a deep pan heat the oil, put in the cloves, cinnamon, bay leaf and green cardamoms. When they crackle add the onion puree. Cook on a low to medium flame, till dry. Add the ginger-garlic paste and saute till it all turns light brown.
Now on a high flame add the chicken (2-3 pieces at a time). Mix the chicken nicely with the onion paste. Cook till all chicken pieces are browned a little.
Add the ground seeds and 1 cup hot water. Mix well and now add the salt and cashew-yogurt paste. Cover and cook till the chicken is almost done. Now add the coconut milk and stir well. Simmer for another 3-4 minutes and the lime juice.
Sneak a taste and adjust the seasoning. If the gravy seems too thick then add a little hot water till a desired consistency is reached.
Serve hot with chapati or boiled rice.




Chicken korma recipe to other quick easy chicken recipes

Creative Cooking Corner Home