Spinach Raita / Palak Raita Recipe
---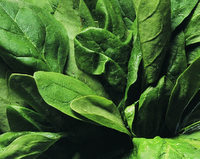 Spinach raita recipe, also known as palak ka raita, is a very simple recipe. This is a tasty and easy way of eating spinach and yogurt. Ready in mere minutes this raita recipe is served cold. If you use Greek yogurt, this recipe can serve as an excellent spinach and yogurt dip.
This recipe serves 4
Ingredients
2 cups of chopped spinach leaves
400 ml low fat plain yogurt (whisked till smooth)
1 green chili (chopped)
2 Cloves Garlic (finely chopped)
1/2 Tsp Cumin powder (roasted cumin seed powder)
Salt to taste
1 Tsp oil (sunflower or any other)
In a frying pan heat the oil and add the chopped garlic. Saute for a minute and add the chopped spinach and chili. Cook for 6-7 minutes till the spinach is wilted and cooked. Allow to cool. Blend to a puree.
Combine together the pureed spinach, yogurt, salt and cumin powder (roasted cumin seed powder, bhuna hua jeera). Chill in the refrigerator. Serve the raita as a side dish. It goes well with a pulao, vegetables or anything really.
Enjoy!
Tip:- To dry roast cumin seeds. Heat a pan and lower the heat, add the cumin seeds (without any oil) and stir constantly, till a nice aroma comes out of the seeds and they change the color. That's it turn the heat off. Let it cool completely. Put in a mill/grinder and grind. Store this powder in a air tight jar/bottle for months. Do not roast on a high flame as this will burn the seeds, giving a bitter taste.



Spinach Raita Recipe to some other Raita Recipes

Creative Cooking Corner Home