Beef Stir Fry Recipe - A Chinese beef recipe cooked in black bean sauce.
---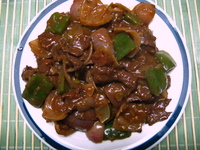 This Chinese beef stir fry recipe is very easy and simple to prepare. The benefit of Chinese cooking is that most of the nutrients in the vegetables are retained. The flavors are absolutely amazing. Try it just once, you will definitely like it.
Ingredients required are as follows
* 500 gm Lean Beef steak (cut into thin slices)

For the marinade you will need
* 1 Tbsp oyster sauce
* 1 Tbsp dark soy sauce
* 50ml Red wine(any)
* 1 Tbsp corn flour
* 2 Tsp Ginger Garlic paste
* 1 Tsp sesame oil

Rest of the ingredients are
* 6 Spring onions (bulbs and shoots chopped and kept separately)
* 2 large Onions quartered and shelled
* 1 large Green bell pepper (capsicum) cut in 16 (1 inch squares)
* 1 Tbsp corn flour mixed in 1/4 cup of cold water
* 1 Tbsp oil
* 1 Tbsp sesame oil
* 2 Tbsp black bean sauce (or use light or dark soy sauce)
* 2 Tbsp oyster sauce
* 1 Tsp Red Vinegar (add little more if required)
* 1/2 Beef stock cube (optional)
* 2 Tbsp Ginger and Garlic (finely chopped, try avoid using the paste here)
* 1 Green chili (chopped)
* crushed black Pepper (to taste)
* Salt if required (most sauces and stock cube already contain a lot of salt)
Marinate the beef slices in the marinade for at least 30 minutes.
Chop the other vegetables as mentioned. Heat a pan and roast the marinated beef (without adding any oil) for at least 5-7 minutes. Take the slices out on a plate and in the same pan add a tablespoon of oil.
Add the chopped ginger and garlic, followed by the chopped spring onion bulbs (not the shoots) and the green chili.
Saute a little and put the beef back in. Add the sesame oil, black bean sauce, stock cube, pepper, oyster sauce and red vinegar. Now add onion shells and cook with the beef till they become glassy.
When the beef is nearly cooked to your taste (I like it well done), add the green bell pepper (capsicum). Cook for 2 more minutes. Sneak a taste and add salt if required. Now add the cornflor paste and cook another 30 seconds till the sauce thickens (whatever little sauce is there, mostly this is a dry recipe).
Turn off the heat and sprinkle with the chopped spring onions. Serve hot with boiled rice or noodles.
Enjoy!!



Beef stir fry recipe to some more meat recipes

Beef Stir Fry to creative cooking corner home