Waldorf Salad
---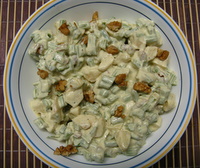 Waldorf salad was created at New York's Waldorf-Astoria Hotel in 1896 by the maître d'hôtel, Oscar Tschirky.
All there is in this salad are apples, celery and walnuts in mayonnaise. Sometimes grapes are also used. I use a healthy mayonnaise for this recipe to cut down on the calories, so that this becomes an even healthier salad. Of course you can make this by using any mayonnaise.
Serves 4
Ingredients
serves 4
1/2 kg crisp red apples
2-3 Tbsp lime or lemon juice
4-5 celery stalks (thickly sliced)
3/4 cup or so of healthy mayonnaise
Salt and black pepper to taste
100 g walnut pieces
parsley or coriander to garnish
Method
Peel, core and dice the apples. Although peeling the in is not essential, I do so to prevent the intake of heavy pesticides etc, which are used on apples these days to prevent their decay during transportation.
Mix the lemon juice on the diced apples and toss nicely to coat, this will prevent the discoloration of apples.
Add the celery, mayonnaise, salt and pepper. Mix gently and keep to chill for some time. Add the walnuts before serving and mix gently. Garnish with parsley or coriander.



Waldorf salad to more salad recipes

Creative cooking corner home