Trifle - An easy trifle recipe
---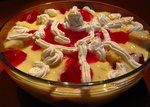 This trifle recipe comes very handy when you have to make a big dessert with minimal effort.
Unlike the traditional English trifle in which jam, peach and almonds are used, for this recipe I use canned mixed fruits or better still, poached mixed fresh fruits in sugar syrup (which I make a day before and refrigerate).
You can of course make any changes to suit your convenience.
Trifle is a dessert which is loved by children and adults alike. The best is that most of the ingredients used here in this recipe are ready made. Although I do tend to make the sponge cake at home and sometimes the fruits. However that can be replaced by ready made sponge fingers or any other cake which you might have and canned fruits.
This recipe serves 6.
So here we go
The ingredients for this trifle recipe are
1 sponge cake or 6-8 sponge fingers
Custard made from 500 ml of milk
Raspberry or strawberry jelly made from 500 ml water
1/2 cup sherry
500g can of mixed fruits in syrup (drain the fruits and save the syrup)
200 ml whipped cream
To make the sponge cake you need
3 eggs
90g castor sugar
90g plain flour
3/4 Tsp baking powder
1/2 Tsp Vanilla extract
Method
Beat eggs and sugar till the mixture become pale yellow and leaves a trail when lifted. This is best done using an electric whisk or stand mixer.
To this add half of the sifted flour and fold gently. Then add the rest of the flour and again fold gently. Remember to fold gently as we want to retain the air in the mixture for the sponge.
Put this mixture into a 7" x 7" lined cake tin.
Bake in a preheated oven at 180° C for 25 minutes. Do a skewer test to check if it's done.
Invert on a cooling rack and let it cool completely.
Make the custard
Use 500ml of milk and ready made vanilla custard powder. Follow the manufacturer's instructions and make a thick but flowing custard. Cover the custard with a cling to prevent skin formation and cool it completely.
Make the jelly
Using 500ml of water and a ready pack of raspberry or strawberry crystals, make the jelly. Pour this into small molds of different shapes and allow to set. You also also let it set in a bowl and later, use a melon baller to take out jelly balls.
Prepare the fruits
Strain the fruits can but save the syrup.
Assemble
Cut the sponge cake into fingers and layer a glass bowl.
Sprinkle the sherry on top. Also sprinkle little of the syrup from the can.
Now spread the mixed fruits on top.
Pour the custard.
Take the jelly out of the molds and arrange on top or distribute the jelly balls on top.
Decorate with whipped cream and serve chilled.
Enjoy!!



Trifle recipe to other dessert recipes

Creative Cooking Corner Home