Three Bean Salad Recipe
---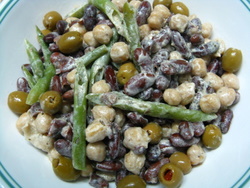 A three bean salad is a very healthy salad recipe. It is best served cold. Very quick and easy to prepare. Full of taste and nutrition.
The ingredients are as follows
200 gm French Beans (Diagonally cut into half)
1 can of Red kidney beans (400 gm)
1 can of Chickpeas (garbanzo beans 400 gm)
Salt and pepper to taste
10-15 Pitted green olives (olives stuffed with pimento)
Dressing
4-5 Tbsp Greek yogurt
2 Tbsp Olive oil (extra virgin)
2-3 Tbsp Red wine vinegar
2 Tsp Dijon mustard
1/4 Tsp sugar
Salt and pepper to taste
1 Tsp Dried Parsley (or some chopped fresh parsley)
1/2 Tsp Garlic Powder
Prepare the dressing by mixing all the ingredients well and keep aside.
Blanch the french beans by boiling in salted water for 5 minutes and running under cold water. If you want you can steam them instead.
Drain and rinse the red kidney beans and the chickpeas.Tip them in a bowl, along with the french beans. Add the salt and pepper. Mix gently.
Add the dressing and stir gently to coat all the beans. Garnish with the olives.Cover and let it stand for 1-2 hours in the refrigerator.
Enjoy your salad.

Three Bean Salad to more salad recipes

Creative Cooking Corner Home