Tempura Recipe - Deep Fried seafood, vegetables and chicken.
---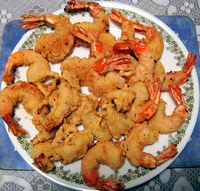 This Tempura recipe can be used to fry prawns/shrimps, chicken or any vegetables (courgettes are very commonly used).
Tempura is a classic Japanese dish of deep fried battered vegetables or seafood. Although it is known to have been introduced to Japan by the Portuguese and Spanish missionaries and traders.
The only one thing to keep in mind while making a tempura batter is that the water or beer should be ice cold and should remain cold (so place it over a bowl of ice if need be).
The Japanese batter is very thin but I like it a little thick, so that it coats the prawn or vegetable well. Again it is a matter of personal choice.
Assorted tempura can be an excellent choice to serve as a snack or appetizer for an informal gathering. Let the friends enjoy chatting over a huge platter of tempura.
I like to add some spices to the batter for the extra flavor.
Method
Prepare everything (prawns, courgettes, chicken etc) before you mix the batter.
Clean and devein the prawns, leaving the tail on. Slice the courgettes into very thin diagonal slices. Similarly slice the chicken thinly.
Serves 6-8
16 Tiger Prawns
1 chicken breast
1 Courgette
To make the tempura batter you will need
100gm (approx) Plain flour
2 Egg Whites and 1 egg yolk
About 100ml of ice cold Water or Beer
Salt and pepper to taste
1 Tsp Paprika (optional)
1 Tsp Garlic powder (optional)
Oil for frying (sunflower)
3-4 Tbsp Plain flour seasoned with salt and pepper
Heat the oil in a deep wok or kadai.
In a bowl, add the flour, salt, garlic powder, paprika and pepper. Put the eggs in and slowly add cold water or beer. Using a fork or chop sticks quickly mix the flour. Don't mix to a smooth, lump free texture. Just mix enough to reach your desired consistency. Tempura recipe comes out best if the batter is mixed less and even if it is lumpy (unlike the batter for Indian pakodas, that is deep frying using gram flour).
Pick up the prawns from the tail, dust in the dry flour and dip in the batter and put in the wok. Deep fry till the tail turns pink.
Repeat this for the rest of the ingredients. Do not add vegetables etc all in the batter, handle them one at a time. Dust, dip and fry. Also do not over crowd the wok. Since all ingredients are sliced thinly, they won't take long to fry.
Remove on kitchen paper or on a wire rack. If using paper don't let your fried prawns sit on that for long. Remove after a few seconds, on to a serving try and straight on the table.
Eat it hot and crispy. If you leave it for long it WILL BECOME soggy.
Serve with chili & garlic sauce. Enjoy!!


Tempura recipe to other easy appetizer recipes

Creative Cooking Corner Home