Sweet and Sour Prawns Recipe
---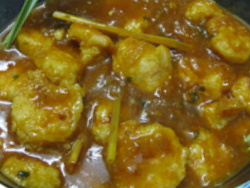 How about some sweet and sour prawns to go with your noodles or rice?
Prawn recipes are very easy to make because the cooking time is less and flavors are more. They are very nutritious. So all in all, a very profitable deal.
This is a Chinese recipe for prawns cooked in a sweet and sour sauce . Hope you will like it.



The ingredients required are as follows
500 gm Tiger prawns (or any good size prawns,cleaned and de veined)
Oil for frying
For the marinade you need
3 Heaped Tsp corn flour
1 Egg white
Salt and pepper to taste
1/4 Tsp Paprika(optional)
1/2 Tsp Garlic powder(optional)
For the gravy you need
1 Tbsp oil
1 Medium onion (chopped finely)
2 Tsp Ginger-Garlic (chopped finely or paste)
3 Tbsp Tomato puree (ready made, for a nice color)
1 Tbsp Tomato ketchup
1 Tbsp vinegar(add little at first, add the rest if required)
1 Tsp Red chili powder (or to taste)
2-3 stalks of lemon grass (root only, pounded. Optional)
1 Tsp chopped fresh coriander stalk (not the leaves, the tender stalk for flavor)
½ Tsp sugar
salt to taste
2-3 Tsp chopped fresh coriander leaves
1 cup hot water
1 Tsp corn flour mixed with a little cold water (to thicken the gravy)

Place the prawns in a bowl and add all the marinade ingredients. Mix well to coat all the prawns. Marinade the prawns for ½ an hour and then deep fry for 1 minute and drain on kitchen paper. Add the prawns one by one in the oil to avoid them sticking together.

In a pan heat the oil and fry the onions and ginger garlic paste till brown. Add the rest of the ingredients (from the ingredients list up till salt) and saute. Tip in the prawns, stir gently. Add the hot water and mix well. Immediately add the corn flour paste. As soon as the sauce thickens, turn off the heat. Garnish with coriander leaves and serve.

Kindly Note-If you want you can also put some shelled onions and a green capsicum (cut in 8pieces), in the gravy just before adding the prawns. Cook these till the onion shells become glassy. Then continue with the recipe.

Taste the sauce and add more sugar if needed. The sauce should taste sour but also little sweet to balance the flavors.

Enjoy!!

Sweet and sour prawns recipe to more fish recipes

Sweet and sour prawns to Creative Cooking Corner Home