Salsa Recipe - A Tomato Salsa Recipe and Salsa verde recipe
---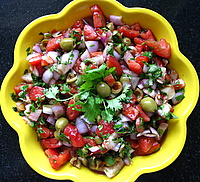 Salsa recipe has got many variations. Salsa means sauce.
This Mexican / Spanish recipe will act like an instant flavor booster to your grilled or baked fish, meat or bread. You can serve it with your appetizers or anything really.
I am listing here 2 recipes.One is a Tomato salsa and the other is salsa verde meaning green sauce.
Enjoy the Latin flavors.
Tomato Salsa Recipe
Ingredients for a Homemade Tomato salsa are...
6-7 Large ripe Plum Tomatoes (skinned, seeded and chopped)
1 red salad Onion (chopped)
1 clove of Garlic (chopped or crushed)
1 cup Fresh Coriander or Parsley (chopped)
2 Tbsp Balsamic vinegar
2 Tsp Worcestershire sauce
1-2 Jalapeno Peppers (from a jar, chopped)
4-5 Tbsp of Olive oil (extra virgin)
1/2 Tsp of Tabasco sauce (to taste)
Salt and Pepper to taste
2-3 Tbsp Capers (drained)
2-3 Pickled Anchovy fillets (chopped / optional)
Mix all the ingredients together and chill in the refrigerator. Serve with grilled meat, vegetables, chicken.......anything really.
Salsa Verde Recipe
Ingredients for Salsa verde are...
200 ml Fish stock
2 Tbsp Olive oil
2 Tbsp dry sherry
3 cloves of Garlic
1 small Onion
2-3 Tbsp of plain flour
a big bunch of Parsley/coriander
Salt to taste
Blend all the ingredients in a mixer. Pour the puree in a saucepan. Bring it to a boil. Then simmer until thickened.
Salsa verde - Green sauce is ready.
Serve these salsa with crudites, corn cakes, salads or just about anything.
Enjoy!!



If you liked this salsa recipe, why not have a look at some more easy appetizer recipes here

Creative Cooking Corner Home