Rice Pudding with Apple and Banana
---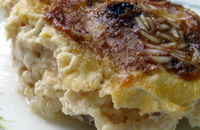 There are a number of recipes for a rice pudding. This one is particularly good for two reasons
1)Easy to make - Put in the oven and forget about it kind of recipe.
2)Low fat dessert and low sugar - a good excuse to indulge.
Not to mention the amalgamated flavors of apple, banana, cinnamon and nutmeg. The best is that you can make this low fat pudding recipe whenever you want, as the ingredients will always be easily available at home. If you have some leftover boiled rice you can put it to use in this rice recipe.
This recipe will serve 4-6
---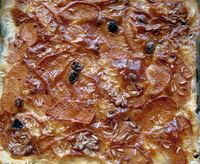 ---
The Ingredients are as follows
75 gm short grain rice or pudding rice (washed, soaked for 1 hour and drained)
1 liter milk (semi skimmed is fine)
50 gm Sugar (Castor)
4 Tbsp demerara sugar (or brown sugar)
1 Banana (sliced)
1 Apple (sliced)
2 eggs
1/4 Tsp Cinnamon powder
1/4 Tsp Nutmeg powder
Handful of Raisins
Butter for greasing
9"x 9"x 3" oven proof dish
Dissolve the sugar in the milk. Also beat the eggs and blend in the milk (milk should be at room temperature).
Grease the pan with very little butter. Sprinkle 1 Tbsp of demerara sugar at the bottom. Spread the banana slices next. Sprinkle another Tbsp of demerara sugar and top that with the apple slices. Sprinkle the rest of the 2 tbsp of demerara sugar and the cinnamon powder on the apples.
Now roughly sprinkle the rice on top of the apples. Slowly pour the milk. Some of the rice grains will float to the top. Don't worry about that, they will get cooked in the oven. Finally sprinkle the raisins and the nutmeg powder.
Place in a preheated oven at 160°C and bake for a good 2 and a half hours. The top should become golden brown.
Cool down to room temperature and then chill in the refrigerator.
Time to dig in.
Enjoy!!!



Rice pudding recipe to other rice recipes

Rice pudding recipe to some more delicious easy dessert recipes

Creative Cooking Corner Home