Rasgulla Recipe
---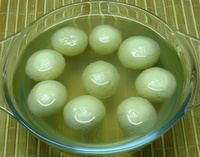 Rasgulla recipe for making spongy rasgullas at home.
Rasgullas are homemade cheese or paneer balls cooked in a sugar syrup and served chilled.
This recipe is made using a pressure cooker. Although you can make it using a big saucepan (make sure you make extra sugar syrup and keep it hot and keep topping up the syrup in the sauce pan. Total cooking time should be 12-13 minutes on a high flame).
Makes 10-12 rasgullas
Ingredients required for this rasgulla recipe are:
1 Lt milk (whole full cream milk)
1/4 cup vinegar or lime juice (mixed with equal amount of water)
350g sugar (white)
900 ml water (plus some if not using pressure cooker)
1 Tsp (only, not anymore) plain flour
1 Tsp Rose water
Method
Make paneer/Cottage cheese from milk
Boil the milk in a heavy bottom pan and slowly add the vinegar to it (a little at a time, add more if required).
Lower the flame. Stir gently and when you see the milk has curdled and the water separated has turned almost clear pale green in color, it means your paneer is made. Turn the heat off.
Put all this in a strainer lined with a muslin cloth / cheese cloth and drain the water off. Wash under a tap to get rid of any vinegar flavor. Let it drain properly. Then squeeze out as much water as you can.
It is very important to take out any more excess water, place the wrapped paneer under a heavy pan or stone for about 10 minutes. This will ensure that all the excess water is drained out.
Shaping the Rasgullas
Put this paneer in a food processor, along with the plain flour and process for 30 seconds. Alternately, place on a dry, clean surface and knead the paneer for 3-4 minutes until the paneer is smooth enough to be rolled into balls.
Divide this kneaded or processed paneer into 10 or 12 portions. Make smooth round balls out of each portion by rolling it in between your palms.
Prepare Sugar Syrup
Meanwhile, add the water and sugar in a pressure cooker and bring it to a boil (don't put the lid yet).
Cooking
Add the paneer balls and close the pressure cooker. Do not put the weight (whistle) on the lid. Let the steam come out. Cook on a medium flame for 15 minutes. Not any more. Close the flame. Wait for a minute and open.
Kindly note :- Use a 5 lt pressure cooker for this, to make sure that there is ample space inside. The rasgullas tend to double in volume after cooking.
Carefully remove the rasgullas in a bowl, using a ladle. Pour the sugar syrup on top.
Let them cool completely. Do not disturb the rasgullas when they are hot as they might break.
When cooled, add 1 Tsp of rose water to the syrup, stir very gently, so as to mix.
Refrigerate the rasgullas and eat chilled.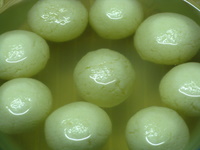 ---
Rasgulla disaster Therapy
In case the rasgullas turn out hard. Cut them up and add to the Sevian kheer sevian kheer recipe.
or
Serve them with kulfi or ice cream.
or
Chill them in thickened milk and sprinkle with pistachios.

Rasgulla recipe to other Indian dessert recipes

Rasgulla recipe to Creative Cooking Corner Home