Pumpkin Raita Recipe
---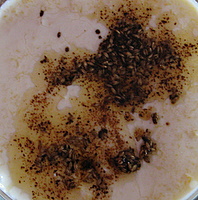 Pumpkin Raita is an Indian Recipe for pumpkin in a yogurt based sauce.
You will like this recipe even if you are not a pumpkin fan.
This recipe is a good way to feed pumpkin to children who fuss about eating a pumpkin.
As most of my raita recipes, this is also very quick and easy to make.
It is a good accompaniment to a rice, meat or vegetarian dish.
Make it as mild or hot as you want. It tastes fabulous.
You can use a low fat yogurt, to make this an even healthier recipes.
The ingredients required are as follows
200 gm yellow Pumpkin (boiled and mashed)
500 gm Yogurt (low fat)
1 Tsp oil
½ Tsp Cumin seeds
¼ Tsp red chili powder or paprika (to taste)
½ Tsp sugar
Salt to taste
1 Tsp Roasted cumin seeds powder

Boil and mash the pumpkin and let it cool down to room temperature.

(To boil the pumpkin - Peel and cut it into small pieces. Put these pieces into a pressure cooker with 1/2 cup of water and cook until the first whistle.
OR
Put the pieces of pumpkin in a saucepan and cover with water. Bring it to a boil, then cover and simmer until the pumpkin becomes soft.)

Add the sugar, salt and cumin powder in the yogurt and whisk lightly with a balloon whisk, until smooth.

Add the pumpkin and mix well.

In a small pan, heat the oil, add the cumin seeds and turn off the heat. Add the chili powder. Add this tempering to the yogurt. Chill and serve.

Variations

1) Add a chopped green chili and 6-7 curry leaves for tempering instead of cumin seeds and red chili powder.

2) If you want you can omit the oil altogether. Just mix the pumpkin, roasted cumin powder, salt and sugar, in the pumpkin. Serve cold.



Pumpkin raita to other raita recipes

Creative Cooking Corner Home