Prawn Curry Recipe
---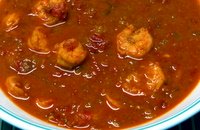 This Prawn curry recipe is one of the ways you can make a curry for prawns.
It is not only a very flavorsome Indian prawn recipe, but also very easy to cook. You can use shrimps as well for this recipe.
This prawn / shrimp curry recipe goes well with rice.
Try it once, you will surely like it. Please adjust the chili powder to your taste.
Serves 4
The ingredients required for this recipe are as follows
500 gm Prawns (tiger or any big size, Cleaned and de veined)
1 large Onion (chopped finely)
3 large Tomatoes (chopped finely)
1 Tsp Ginger (chopped finely)
2 Tsp Garlic paste
2 Tsp Oil
1/2 Tsp Turmeric powder
1/2 Tsp Cumin powder
1 Tsp Coriander powder
Salt to taste
1 Tsp red chili powder (hot)
4 Tbsp Coconut milk
4-5 Curry leaves
2 Cups water
Heat the oil in a non -stick deep pan or kadai. Add the onions and saute on low heat till soft. Add the ginger and garlic and saute till the onions get caramelized (light brown color).
Add the turmeric powder, cumin and coriander powder. On a low flame saute for a minute.Then add the tomatoes and 2 tbsp of water.On a medium flame cook till tomatoes become soft. Add the salt, chili powder and curry leaves.
Cook on a medium to high flame until this becomes dry (all the water evaporates) and oil becomes visible on the sides.
Add 2 cups hot water (little at a time, mixing well till the gravy comes to a desired consistency).Mix well and bring to a boil. Now reduce the heat and add the coconut milk 1 tbsp at a time stirring constantly.If the heat is high the milk will curdle.
Simmer for 3 minutes. Sneak a taste and adjust the seasoning if needed. Bring it to a boil again and add the prawns.
Boil vigorously for 4-5 minutes. Turn off the heat, cover the pan with a lid. Let it rest for 10 minutes.
The curry is ready to be served with rice or noodles or chapati. Enjoy the flavors of this Indian curry for prawns.

Prawn Curry to more fish recipes

Creative Cooking Corner Home