Lemon Cheesecake Recipe
---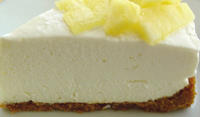 Lemon cheesecake is a very simple to make dessert recipe.
If you are looking for an easy, yet glamorous dessert to serve for your guests, but have no time to make an elaborate one, this dessert will save you.
The flavor is amazing and the best is that you can make this no bake dessert in no time, put it to chill and forget about it.When you serve it, all you have to do is to collect praises from your guests.
This recipe serves 6-8.
The ingredients required are
150g Digestive biscuits
75g Butter
225g Low fat soft cheese
150ml Double cream
50g Castor Sugar
1 Lemon
Fruits to decorate (grapes, lemon slices or glace pineapple etc)
1 Flan dish 8" or a sqaure or rectangular 7" x 7" glass serving dish
Put the biscuits in a food processor and make crumbs. You can also easily do this by putting them in a polythene bag and bashing them with a rolling pin.
Melt the butter in a an and add the biscuit crumbs. Stir for 30 seconds. That's it.
Place and press the crumbs to the bottom of the flan dish. Put in the refrigerator (for half an hour) and let it set.
Grate the lemon and squeeze out the juice.
Whip the cream until thick. Add half the cream to the soft cheese. Also add the lemon rind, juice and sugar. Fold gently.
Spread this mixture over the crumbs and place back in the refrigerator to chill.
Decorate with left whipped cream and lemon slices or any other fruits and serve.
Enjoy!!



Lemon cheesecake to other dessert recipes

Creative Cooking Corner Home