Hot Chocolate Souffle
---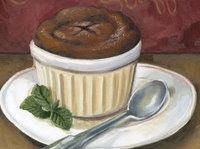 A hot chocolate souffle is an easy to make dessert. It tastes even more wonderful if served with cold ice cream. Of course you can enjoy it as it is.
If you are looking for a chocolate dessert recipe, you can always try this easy souffle recipe. It is easy to make and delicious. A perfect choice when inviting 4-8 friends.

A word of caution - Put them in the oven only when you are sure to eat them as soon as they come out. Remember, souffle and time waits for no one.
So if you wait too long before you serve them, your well risen souffle will sink and not look very presentable. It would still taste good though.
This recipe will serve 4.
You would require 4 ramekins or a round souffle dish (which you should cover on the sides with butter paper, going around the dish, at least 2 inches higher from the rim. Secure it with a heat proof tape). This will support the souffle when rising. No need to do this if using individual ramekins.
The Ingredients required are
25g Plain Flour
25g Butter and some more for greasing
150ml Milk (whole or semi skimmed)
1 Tbsp Water
65g Plain Chocolate (cooking, dark or any of your choice)
2-3 drops of Vanilla essence
30g Castor Sugar
2 Egg yolks
3 Egg whites
some Icing sugar for dusting
Method
In a heavy bottom saucepan, add the chocolate (broken into small pieces), water and 4-5 Tbsp of milk. On a low to medium flame, stir it gently, till it melts. If you prefer to use a double boiler to melt the chocolate, please suit yourself.
Once melted gradually add the remaining milk and blend well, using a fork or a balloon whisk.
In a pan add the butter, when it starts to melt add the flour and cook for a minute or 2, stirring constantly, on a low heat. Remove from heat and to this add the chocolate mixture.
Bring it to a boil and stir until the sauce thickens. Now stir in the vanilla essence and sugar. Leave it to cool.
Beat the egg yolks into this cooled mixture. Lightly butter the ramekins and set aside.
Pre heat the oven to 180°C.
Whisk the egg whites until stiff but not dry. Add 1 big spoonful of this egg white in the mixture and gently fold it in. Now add the rest of the egg whites and fold gently.
Pour it into the souffle dishes, equally. Put into the pre heated oven for 40-45 minutes.
Once risen well, take out. Serve the individual ramekins and some ice cream on the side. Dig in.
Enjoy your hot chocolate souffle!!!



Hot Chocolate Souffle recipe to more dessert recipes

Creative Cooking Corner Home