Recipe for Gajar ka halwa / Carrot Halwa Recipe
---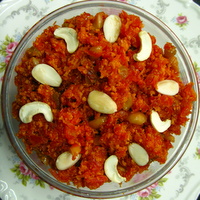 Gajar ka halwa, also known as carrot halwa or gajarela is a very popular Indian dessert recipe, made from grated carrots. It is very easy to make and it tastes amazing.
Traditionally the carrots used in the making of gajar halwa are sweet carrots (pinkish red color). They are abundantly available in the northern region of India especially during winter months. Hence, carrot halwa is often made in almost every house during that time.
In case red carrots are not available, you can easily substitute with orange cooking carrots. Since, the orange carrots are available throughout the year, you can make gajar ka halwa whenever you want, rather than waiting for winters.
The carrot halwa normally contains 'khoya' (solidified milk). Again that is not available easily in certain places. My recipe can be easily made in any part of the world. I use very basic ingredients and a simple method to cook.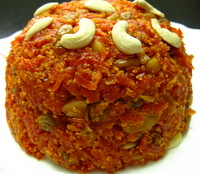 Before I get to the recipe, I would like to mention a little about the grating technique. I do not use a food processor for grating the carrots. The reason being that even the big grater of a food processor, produces finely grated carrots, which gets all mushy by the time the dish is finished. I use the manual grater with big holes. Yes, it is a pain. But I look at it as burning some calories and feeling less guilty when eating the halwa.
This recipe serves 6
The Ingredients required for making gajar halwa are
700g grated carrots (weighed after grating)
700 ml milk (low fat is fine)
30-40 ml (sweet condensed milk)
sugar 1/2 cup
1/4 cup of assorted almonds (blanched, peeled and sliced) and cashews (chopped)
1/4 cup of Raisins
1/4 Tsp green cardamom powder
2 tbsp desi ghee (clarified butter)
Peel and grate the carrots.
Use a wide open non stick large vessel (like a kadai), so that evaporation is quick. Heat the kadai and melt the ghee in it. Add almonds and cashews, roast on a low flame. When they turn light brown add the raisins as well. As soon as they puff up remove everything on a plate using a slotted spoon.
In the remaining ghee, add grated carrots, milk and condensed milk. Cook constantly on a high flame, stirring occasionally, till all the water evaporates and ghee oozes out. Sneak a taste, add the sugar according to taste.
Keep stirring gently, till the sugar mixes up and more ghee oozes out.
When almost done add nuts and sprinkle cardamom powder. Give a gentle stir and turn off the heat.
Serve hot and enjoy!

---
Gajar ka Halwa recipe to more Indian dessert recipes

Creative Cooking Corner Home