Fruited banana cake - Fruit Banana Loaf Recipe
---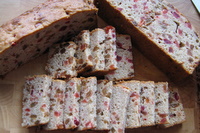 A fruited banana cake is a delicious cake to serve at any time. You can enjoy it with tea or as a dessert after an afternoon lunch. It won't be bad for breakfast time either, after all there is a lot of bananas and dry fruits in it.
The best thing about this cake is that you can mix everything together in a mixing bowl, one after the other. So no folding of dry ingredients required.
This recipe serves 8-10
The Ingredients are
250g Plain Flour
125g Butter
2 Tsp Baking Powder
1 Tsp Mixed Spice Powder
170g Castor Sugar
75g Glace Cherries (quartered)
125g Raisins (a mixture of sultanas, blackcurrants and raisins is also good)
60g Walnuts (chopped, optional)
2 Eggs (lightly beaten)
4 Large bananas (pureed)
9"x9" Cake tin or 1Kg Loaf tin (buttered and lined with greaseproof paper)
In a mixing bowl of a food processor, put the flour, butter, baking powder and mixed spice powder. Run the blade, till all of this resembles bread crumbs. Now add the sugar and all the dry fruits and walnuts. Mix again. To this add the eggs and banana puree and mix well.
Pour this mixture into the cake tin and bake in a preheated oven at 160°C for a good1-1/4 to 1-1/2 hours.
After about 70 minutes, carefully take the cake out, insert a knife or skewer at the center of the cake. If it comes out clean, your cake is done. If not the put it back in the oven for another 10 minutes.
Once done, keep the tin outside and let the cake cool in the tin itself. Do not invert it on a cooling rack. When the cake has cooled completely, wrap it with a cling wrap and put it in the refrigerator for a few hours. Then take it out, tip it carefully on a slicing board and slice the cake.
Enjoy!!!



Fruited Banana cake to other dessert recipes

Creative Cooking Corner Home