Egg Salad Recipe
---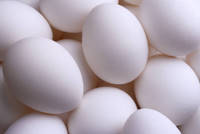 This egg salad recipe is so colorful, nutritious and easy to make that I will recommend you try it at least once.
Although I have given a set of ingredients but to be honest I myself don't always follow my own list of ingredients. I use whatever is available. The idea is to add eggs with a few vegetables and fruits, along with some salad greens and nuts, to make this a balanced healthy salad. So if you want pears instead of apples and strawberries instead of grapes, please go ahead.
Another thing, if you are very conscious of the cholesterol intake then I would suggest to discard the egg yellow after boiling or use 3 egg yellows instead of six.
So here we go.
Ingredients

5 cups mixed salad greens (approximately)
1 cup green grapes
1 Cup sweet corn kernels
1 Red Pepper (capsicum, cored and diced into small cubes)
1 Apple (peeled, cored and diced into small cubes, leave this for the last minute, to avoid discoloration)
1 red Onion (sliced)
1 fistful of toasted peanuts or almonds (optional)
6 hard−boiled eggs (quartered)
Dressing
3 Tbsp olive oil (extra virgin)
2 Tbsp red wine vinegar
1 Tbsp Orange juice (optional)
1 Tsp finely chopped garlic
2 Tbsp Honey
1 Tsp Oregano (dried)
1/4 cup Water
Salt and pepper to taste
Method
Put all the ingredients under dressing, in a jar with a tight fitting lid. Shake well, until everything mixes up nicely.
In a salad bowl add the salad greens, grapes, apples, corn, onion, pepper and peanuts. Mix well. Now add the eggs and mix very gently again. Finally, give the dressing another shake and pour it on the salad. Gently mix using salad spoons, until all ingredients are coated well in the dressing.
Refrigerate for 15-20 minutes to let the flavors seep in and serve cold. Enjoy your delicious health egg salad.




Egg salad recipe to more salad recipes

Creative Cooking Corner Home