Easy Chicken Recipes
---
Thai style chicken stew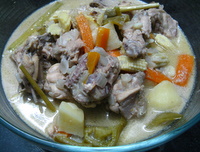 This is one of my easy chicken recipes. It is a flavorsome chicken stew with a lot of vegetables, predominantly Thai flavored. You will like this with plain boiled rice.
Serves 4-6
Ingredients required
1 Kg chicken (skinless, on the bone cut into small pieces)
2 Carrots
2 medium Potatoes
7-8 baby Corns
1 large green Bell pepper (capsicum)
2 large Onions (chopped)
2 Tbsp ginger-garlic paste
1 inch knob of ginger pounded
5-6 stalks of fresh lemon grass (5-6 inches from the root)pounded
2 Tbsp oil
1-2 cloves
1 green Cardamom
1 Tsp shrimp paste
1 Tsp red wine vinegar
4-5 green or red chilies (to taste)
salt to taste
200 ml coconut milk
1 cup water
Dice all the vegetables into more or less equal size pieces. Heat oil in a pan and add the cloves and cardamom. Now add the onions and saute till soft. Add the ginger garlic paste and cook for a few more minutes. Add the chicken pieces and saute till nicely coated. Add all the vegetables, except bell pepper. Also add the water, chilies, lemon grass and pounded ginger.
Bring to a boil and then simmer (covered) for 10-15 minutes or until the veggies and chicken get cooked. Add the bell peppers, red wine vinegar, shrimp paste and salt.
Cook for another couple of minutes. Finally gradually add the coconut milk and simmer for 3-4 minutes.
Serve hot with steamed/boiled rice.
Enjoy!

Chicken and broccoli
This is another very easy chicken recipe.
serves 4
Ingredients required
500 g boneless chicken diced into 1 inch cubes
1 Broccoli (cut into small florets)
2 Tbsp chopped ginger and garlic
1 Tsp oil
1/2 cup water
2 Tsp Cornflour
2 Tsp Soy sauce
2 Tsp Oyster sauce
Salt and pepper to taste
1 Tsp Sesame oil
Heat the oil in a wok and fry the ginger garlic for 20 seconds. Add the chicken pieces and stir fry till nearly cooked. Add all the sauces and sesame oil. Mix the cornflour in 1/2 a cup of cold water and keep aside. Add the broccoli and cook for 3-4 minutes until just tender. Add salt and pepper to taste. Lastly add the cornflour paste and cook for a minute till the sauce thicken. Turn off the heat.
Serve with noodles or rice.




Easy Pepper chicken recipe
Easy fennel chicken

More quick easy chicken recipes

Creative Cooking Corner Home