Easy Banana Bread Recipe
---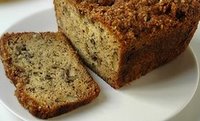 This easy banana bread recipe (banana loaf recipe) is not only tasty but also very healthy. Low is sugar and fat, rich in iron and potassium.
You can eat this as it is or spread it with butter.
If you want to snack on something to pep you up, but are worried about not to take too many calories, enjoy this healthy banana bread.
This recipe will serve 4
To make this wonderful banana dessert (banana cake recipe) you will need the following Ingredients
125g Flour
45g Butter or margarine
45g Castor sugar
125g dates (pitted and chopped)
50g Walnuts (coarsely chopped)
75ml Boiling Water
2 Tsp Baking Powder
1 Egg
1 Kg Loaf tin (buttered and lined with greaseproof paper)
Method
Add the chopped dates to the measured boiling water, cover and leave aside for 15-20 minutes.
In a mixing bowl add the butter, sugar and egg. Beat well. Add the flour and baking powder and mix well until everything is combined well.
Now add the walnuts and the dates along with all the water. Mix well.
Spoon this out in the loaf tin.
Bake in a preheated oven at 180°C for 45 minutes or until well risen and firm to touch. After about 45 minutes, insert a knife or skewer at the center of the loaf. If it doesn't come out clean, put it back in the oven for another 5 minutes.
Once done, keep the tin outside for 5 minutes, then invert it on a cooling rack. Let the bread/loaf cool completely before cutting it.
Enjoy!!



Easy Banana Bread recipe to more dessert recipes

Creative Cooking Corner Home