Dal Chicken - Chicken Cooked in Red Lentils
---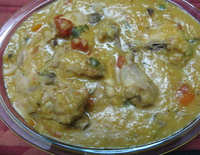 Dal chicken , dal murg or lentils and chicken recipe is best made when you want a quick fix meal, which is healthy and delicious. I prepare this in a pressure cooker, so you can imagine how much time do I save. This can be prepared in a casserole as well.
Different kinds of dals or lentils are almost always made in the daily Indian cooking, especially in North India. Lentils and pulses are a rich source of proteins. You can choose any lentil of your choice for this recipe. I like it with the red lentil or what we call masoor dal (not the split one, just the whole).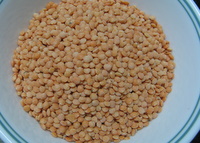 If you want to make this as a thin chicken lentil soup, then reduce the quantity of the lentils and increase the vegetables a little. For a soup, smaller chicken pieces would be ideal.
This recipe is like a chicken dal stew, it can be eaten with boiled rice or zeera rice and even with bread or chapati or paratha. It's not a fancy recipe and is made with minimal effort but that does not affect the taste.
An ideal choice if you are suffering from cold or recovering from an illness. The chicken gives a real nice flavor to the dal, hence dal chicken is more flavorsome than if you cook just dal (vegetarians will beg to differ, though).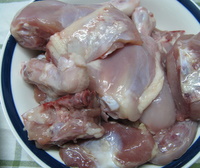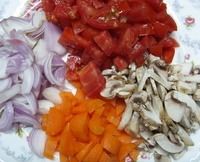 Ingredients
*1/2 Kg chicken (curry size pieces on the bone)
*1 cup masoor dal (whole red lentils, washed and drained, I don't pre soak it)
*1 large Onion (sliced)
*3 medium Tomatoes (chopped)
*4-5 button Mushrooms (sliced)
*1 large Carrot (diced)
*1 Tsp Ginger Garlic paste
*2 Tsp Oil
*1/2 Tsp Cumin seeds
*1/2 Tsp Turmeric powder
*3-4 green Chilies (chopped)
*Salt to taste
*2-3 Tbsp fresh Coriander leaves (chopped)
Heat a pressure cooker, reduce the the heat and add oil in it. After 30 seconds, add the cumin seeds and let them crackle. Once they become a little brown and a nice aroma comes out, add the onions and fry till slightly brown.
Add the ginger garlic paste and cook further for a minute or so. Now add the chicken and on a high flame braise till all the sides are sort of browned. Add the carrots, chilies, mushrooms, tomatoes and the lentils. Add 2 cups of water, turmeric and salt. Close the lid and cook till the first whistle and close the flame.
When the pressure has settled down, open the lid, check the consistency. If thick, add hot water to reach the desired consistency. Garnish with coriander leaves. Serve hot with rice and a wedge of fresh lime. That extra tang always tastes good.
Variation
As you would have noticed this is a mild recipe, without much spices. You can crackle 2-3 cloves, 1 bay leaf, 1 green cardamom, 1 inch cinnamon stick in oil before adding the onions. Also, you can sprinkle a teaspoon of garam masala powder, when cooked. This will give a different flavor altogether.
Enjoy the dal chicken!



Dal Chicken to other quick easy chicken recipe

Creative Cooking Corner Home