Creamy Mushroom Soup
---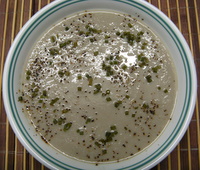 A creamy mushroom soup is one of my favorite mushroom soup recipes. What I like about this soup is the combination of flavors of onion, mushroom, butter and milk (I don't use cream but you can).
If you are looking for a quick easy soup recipe, then this is it. Such a simple yet scrumptious soup recipe.
Serves 4
To make this soup of mushroom you will need the following ingredients
* 200g button Mushrooms sliced
* 1 small Tomato (just to give that tiny hint of tang, use very little)
* 1 large Onion chopped
* 1 Tbsp Butter
* salt and pepper to taste
* 1/2 Tsp chives (dry is ok)
* 1 cup water
* 1 cup milk
Method
Melt the butter in a pan and add the chopped onions and saute till soft (not brown), then add the mushrooms and tomato, let them sweat. When the mushrooms become soft and the salt and black pepper. That's it. Put in a blender with little water and puree it.
Put the puree back in the pan and add the milk and water till the soup reaches a desired consistency. Check the seasoning. Garnish with chopped chives.
Such a simple yet totally flavorsome mushroom soup.
You can add more butter and cream if you like.



Want to try some more soups after this creamy mushroom soup?

Creative Cooking Corner home