Corn salad recipe
---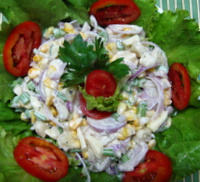 Corn salad recipe is a very easy to make vegetable salad. It is not just healthy but looks attractive as well. I use a healthy mayonnaise (made at home with yogurt) as a dressing for this salad recipe. That makes this corn salad even more healthy. The Ingredients used are
1 can sweet corn kernels (or steamed corn from 2 cobs)
1 Salad onion (sliced)
2-3 stalks of Celery (chopped)
1 Boiled potato (chopped)
6-7 big lettuce leaves
1 large Tomato (round slices)
6-7 Tbsp healthy mayonnaise (or any other dressing).
In a large bowl mix the corn kernels, sliced onions, celery and potato. Add the mayonnaise and coat well. In a round serving bowl, arrange the lettuce leaves on the sides and add the mixed corn in the center. Arrange the sliced tomato on the sides. Refrigerate for 1 hour.
Eat cold and enjoy!
Tip:- Just make sure that the mayonnaise is seasoned properly with salt and pepper, as we are not using any extra seasoning for the salad.



Corn salad recipe to more salad recipes

Creative Cooking Corner Home