Char Kway Teow - Malaysian recipe for fried flat noodles.
---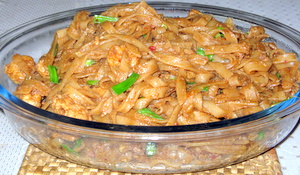 ---
Char Kway Teow (means fried flat noodles). It is a Malaysian recipe which not only tastes delicious but is also is very quick and easy to prepare.
The ingredients are
Flat rice noodles (about 300 gms,easily available at a Chinese grocery store)
200 gm de veined prawns or shrimps
300 gm boneless chicken (cut into bite size pieces)
3-4 Tbsp oil
7-8 cloves of garlic (chopped finely-a lot of garlic is essential)
2 Tsp shrimp paste (or 1 ½ tsp dried shrimp powder)
3 Tbsp dark soy sauce
2 Eggs (beaten lightly)
1 Fresh red chili (sliced diagonally)
100 gm Bean sprouts
4 stalks of spring onions (chopped)
1 Tsp Palm sugar (Brown or demerara is fine)
Salt to taste (remember the soy will have salt already)
Heat the oil in a pan. Add the garlic and saute for a minute,then add the shrimp paste. Saute for 3-4 minutes.
Add the chicken and chili flakes and stir fry. Cook till chicken is done (which won't take long).
Add the prawns and cook for 2 minutes. Meanwhile cook the rice noodles as per the manufacturer's instruction (normally they are just soaked in hot water for 6-7 minutes or until done).
Add these to the chicken, stir fry for 2 more minutes. Put the soy sauce and sugar at this stage and mix till the noodles are well coated.
Make a well in the center of the pan by scooping the noodles aside and add the beaten eggs. Wait till the eggs are a bit set, then mix them well with the noodles.
Heat further for a minute or so to ensure the eggs get cooked completely. Now add the bean sprouts and spring onions on top and stir. Turn off the heat.
Eat hot and enjoy the lovely flavors.

Char Kway Teow to other quick easy chicken recipes

Creative Cooking Corner Home