Beet Soup | Creamy Crimson Beetroot Soup
---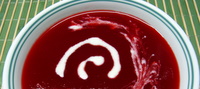 Beet soup or for that matter any beet recipe is not very dearly liked by most of us. Some don't like the taste and some think it is too messy to handle. Honestly, I am not a big fan myself. But given the health benefits of beets, I do use it in a few recipes of mine. Primarily soups, salads and some Indian subzi preparations. In all fairness, it does taste good in those recipes. In fact I kind of love the taste, texture and the color.
So why should you eat beets?
Health benefits of beets
* Beetroot lowers cholesterol and blood pressure.
* Beets also protect against birth defects, cognitive disorders such as Alzheimer's, osteoporosis and cancer.
* High in folate, nitrates, magnesium and antioxidants, beets juice, beet fiber and beet greens have been shown to aid in disease prevention and control.
* It contains phosphorus, sodium, magnesium, calcium, iron and potassium, as well as fiber, vitamins A and C, niacin and biotin. Beets contain folic acid, which is recommended for pregnant women.
Eating a cup of raw beetroot can work as magic for people with high blood pressure and high cholesterol.
If you don't like the the raw taste of this root vegetable, you are bound to like the taste when it is boiled in this simple soup.
I cook this soup in a pressure cooker because it reduces the cooking time and also helps in preserving the nutrients. Of course you can make it in a saucepan but for that you will need to simmer for 30-40 minutes, until the vegetables are tender. I also tend to get more greedy and use a few other healthy vegetables, so as to get even more health benefits.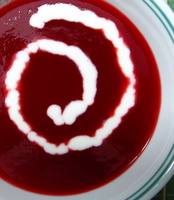 Ingredients
* 2 large Beetroots
* 2 large Carrots
* 3 medium Tomatoes
* 1 medium Onion
* 1 small Potato
* 3 cups water or vegetable stock
* Salt and Pepper to taste
* 1/4 Tsp Sugar
* 1 Tsp thick yogurt (to decorate)
Method

Chop all the ingredients finely. Put all chopped vegetables along with the water or stock in the pressure cooker. Cook till the first whistle (if using at least a 5lt cooker). This will ensure a lot of pressure is build up. Turn off the heat and let the pressure settle down on it's own.
When it is safe, open and transfer the contents of the cooker (along with the water), to a blender. Give it a nice zush.
Now pass it through a strainer so as to get rid of the tomato seeds.
That's it, add salt, sugar and pepper to taste.
Serve warm or hot if you like. Decorate with some yogurt.
This is what I call a healthy beet soup which has no butter or any additional fat.



Beet soup to more soup recipes

Creative cooking corner home