Banana Cake Recipe
---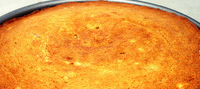 This Banana Cake Recipe is loved both by adults and children. An easy banana cake which can be served with tea or coffee. Since it is a fairly healthy cake (for children), you can also pack this in their lunch box. Good for them.
A banana dessert is always full of flavor, be it a cake or ice cream. Baking with banana is good fun, especially when the whole house is filled with this wonderful aroma during baking. This cake is a no hassle cake. You just beat it and bung it in the oven. It will be ready in 45 minutes.
This cake will serve 8.
The Ingredients for this banana cake recipe are
250g Plain Flour
175g Castor Sugar
175g Butter
2 Eggs
2 Tbsp Milk
2 Tsp Lime juice
1 Cup mashed Banana (about 2 bananas)
1 Tsp Baking powder
1 Tsp Soda bi carb (baking soda)
30-40g Walnuts (roughly chopped)
9" x 9" square or 8" round cake tin lined with paper)
Method
All ingredients should be at room temperature before you start beating the cake.
Ideally you should use a stand mixer (table top mixer) to beat a cake for best effect. But if that is not available, then a food processor is also good if you have the proper attachment for beating. If none of this is available then you can use hand held mixer or a manual beater. The choice is yours.
Sift together the dry ingredients and keep aside.
Cream the butter and sugar until pale yellow and fluffy (till you can see the soft peaks).
To this add 1 egg and beat well till it mixes, then add the other egg and mix well.
Now add the milk and lime juice, followed by the mashed banana.
Preheat the oven now to 180°C.
Time to add the flour to the beaten mixture. Add the flour and walnuts little by little (in three batches) and fold gently until it combines well.
Please do not add all the flour at once.
Transfer all this to a lined cake tin and bake in a preheated oven for 40-45 minutes. After about 40 minutes, take the cake out (don't forget to wear your oven mits ;-) ) and insert a knife or skewer at the center of the cake. If it comes out clean, your cake is done. If not then put it back in the oven for another 5 minutes.
Once done, keep the tin outside for 5 minutes, then invert it on a cooling rack. Let the cake cool completely before cutting it.
Tip:- For better slicing, keep the cooled down cake in the fridge for a few hours. Slicing a cold cake is always easier. Although wrap it up nicely before putting in the refrigerator to avoid any moisture or odor.
Enjoy the delicious banana cake with your family and friends.



Banana Cake Recipe to more desserts

Creative Cooking Corner Home