Apple Pudding Recipe | Eves Pudding
---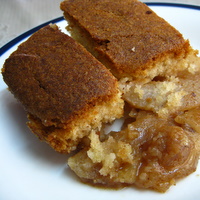 I think of apple pudding recipe whenever I have to prepare an apple dessert recipe. There is something so sapid about this dessert.
Whenever the market is full of nice, crunchy and sour juicy apples, that is the best time to prepare an eve's pudding, which by the way is another name for apple pudding. You cannot eat these sour apples just like that. They are best used in cooking a pudding or some dessert. If you easily get cooking apples in your market all year round, then go ahead use them for this pudding. You can even substitute pears for apples in this recipe to make it a pear pudding recipe. Or use half apples and half pears. Either way it will taste wonderful.
What I like about this apple pudding recipe is the overall flavor and texture. The soft apples, the spongy cake on top and not to mention the extraordinary taste of mixed spice and cinnamon. Apples and cinnamon complement each other so well. The aroma fills your house even before the pudding is done.
Serves 6
Ingredients
* 500 g apples (weight is after peeling and removing the seeds)
* 100 g light brown sugar (or demerara sugar)
* Juice and zest of a lemon
* 125 g butter
* 125 g plain flour
* 125 g castor sugar
* 2 Eggs
* 2 Tsp baking powder
* 2 Tsp Mixed spice powder
* 1 Tsp Cinnamon powder

Method
All ingredients should be at room temperature. Use crunchy and sour apples if possible.
Peel, core and thinly slice the apples and place in a large bowl. Immediately squeeze the lemon juice (to prevent discoloration of apples), lemon zest, light brown sugar, cinnamon powder and one teaspoon of the mixed spice powder. Cover with a lid and shake vigorously in order to mix everything well.
Take a 9" x 9" glass baking dish and lightly butter it. Arrange the apples at the bottom of this dish.
Meanwhile, prepare the sponge mixture.
Sift the dry ingredients (flour, mixed spice powder and baking powder). Beat the butter and sugar until light and creamy. Add one egg at a time and beat. Add all the dry sifted ingredients and mix well. No need to gently fold the flour, you can use the mixer for this.
Now, with the help of a spatula spread this cake mixture, evenly over the apples.
Bake in a preheated oven at 180°C for 40 to 45 minutes, until the sponge cake is cooked through. Insert a knife or skewer into the cake to check if it comes clean.
Once done, you will get a spicy apple pudding with soft apples at the bottom and a well risen sponge cake on top. Slice with a knife and take the whole layer (both cake and apple) to serve. Serve hot pudding with cold vanilla custard or ice cream.
I just prepare the good old Brown and Polson vanilla custard and refrigerate it a few hours before serving the pudding.
Dig in and enjoy the flavors of your apple pudding recipe!


Apple pudding recipe to some more delicious simple dessert recipes
Creative cooking corner home