Coconut Fish Curry Recipe
---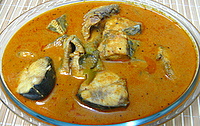 Coconut fish curry recipe is best served with plain boiled rice. This recipe is very tangy, hot and spicy. You can of course alter the chili content to suit your taste.
This Indian fish curry recipe, can be made with any white fleshy fish (any fish of your choice really).


The ingredients required to make this fish curry with coconut are
1 Kg of fish slices (any white, fleshy fish)
2 medium Onions (pureed)
2 Tbsp Ginger-Garlic paste
2 large Tomatoes (pureed)
½ Tsp methi (fenugreek) seeds
½ Tsp Mustard seeds
1 Tsp saunf (fennel) seeds
1/2 Tsp Turmeric powder
1 Tsp Coriander powder
1 Tsp Fennel powder
1/4 Tsp Cumin powder
1 Tsp red Chili powder
3 Tbsp Oil
1 Tsp English mustard
2 green Chilies slit
10-12 curry leaves
1 Tsp Tamarind paste
100 ml Coconut milk
1 cup water (hot)
Salt to taste
In a pan heat the oil, add the mustard seeds. When they sputter, add the fenugreek seeds and fennel seeds. Add about 6-7 curry leaves. Saute for 10-15 seconds and add the onion puree and fry. Add the ginger garlic paste. Fry till the onion paste becomes brown. At this stage add the coriander, cumin, fennel and turmeric powder. Saute for a minute and add the tomato puree and the English mustard.
Cook till it becomes dry and you can see the oil on the sides.
Add the slit chilies, salt, red chili powder and coconut milk.
Stir continuously and simmer for 4-5 minutes.
Now add the hot water little at a time to reach the desired consistency for the gravy.
Add the rest of the curry leaves and tamarind paste. Bring it to a boil.
Slip in the fish pieces. Cook covered on medium high flame for 5-7 minutes (or until the fish is done).
Taste the gravy and make adjustments if any.
Serve with rice.



From Coconut fish curry to other fish recipes

Creative Cooking Corner Home